Some great options to come sail with us this year;

Captain Margie and I would like to invite you to join one of our unique liveaboard sailing excursions this year. We have been making great memories for our guests while they experience the cruising life for the last 6 years. Take a week to learn, relax and just have fun while you exploring the beauty of nature under sail. Below is just a small sample of what we offer, reserve with us now for what I promise will be a truly special week.
Trips can include couples learning to sail together, memorable family vacations, preparing yourself for the cruising life with advanced sail training, and new this summer trips dedicated to free diving for lobster! You can join us sailing in Greece, the Bahamas, Caribbean and of course our home base in the Florida Keys.
Captain Harold Ochstein
Harold@Island-Dreamer.com
561-281-2689
Couples Teaching Couples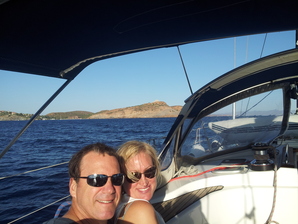 Cruising classes for couples are an innovative way to learn about sailing and are designed to help you discover the joy of cruising together.  While on a learn-to-sail vacation, couples build confidence in each other with personalized instruction in an easygoing, positive environment that makes sailing together enjoyable. Our classes are a private charter where we anchor in a new place each night. ASA certifications or just more casual lessons with one on one instruction.
Join us for these special sailing trips:
Snorkeling and fishing with your family on the coral reefs June and July.
Explore Greece on a 49′ yacht in September.
Freedive for Lobster in the Keys late July and August.
Make an offshore passage in Martinique this March.
Experience the Bahamas on a beautiful catamaran.There is lots more about us and these special programs on our website. You can also contact me directly for more information or a personal quote. Do it soon bookings are limited!
Thanks for reading to the end, just in case you were wondering it is 75 in Miami today, so if you are currently trapped in the Polar Vortex Margie and I really think you might want to consider coming on down….